Mussoorie is a hill station and a municipal board in the Dehradun District of the northern Indian state of Uttarakhand. Once a part of Nepal under Garhwal region and still lying in the Garhwal region claimed to be part of Greater Nepal, it is located about 35 km from the state capital of Dehradun and 290 km north from the national capital of New Delhi. This hill station, situated in the foothills of the Garhwal Himalayan ranges, is also known as the Queen of the Hills. The adjoining town of Landour, which includes a military cantonment, is considered part of 'greater Mussoorie', as are the townships of Barlowganj and Jharipani.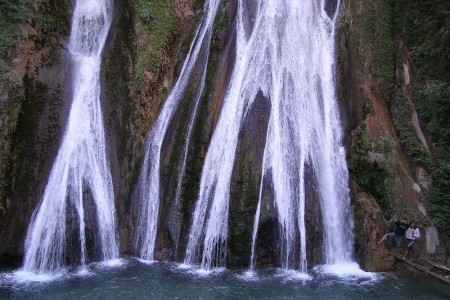 Bhatta Falls
Situated 7km from Mussoorie on Mussoorie-Dehradun road lies Bhatta Village. Bhatta Village is accessible by motorable roads from where the easy trek of 3km commences to stimulating Bhatta Falls. It has different ponds and small lakes for bathing and water amusements and is an ideal place for picnic.
The Mall Road
The Mall Road is one of the most crowded places of Mussoorie. The structure of the road takes you back to the colonial period of Britishers. There are numerous restaurants, hotels and shops on this road. The Methodist church is situated on the Mall and is around 100 years old.
Jharipani Fall
Jharipani falls is 8.5Km from Mussoorie on Mussoorie-Jharipani road where you can go by local bus uptoJharipani and 1.5Km trek will lead you to the Jharipani falls providing enchanting beauty and breathtaking view
Kempty Fall
15Km from Mussoorie on Chakrata road, Kempty falls has a stunning beauty that attracts tourists on the way to Mussoorie. 4,500 feet above sea level, the fall enchants you with water drops falling from 40 feet splitting into five streams, jumping over each other and fascinating the viewers. You can enjoy a refreshing bath in the waterfall Kempty falls. If you are searching for a picnic spot on the area, you can go to Lake Mist, 5Km before Kempty on Mussoorie-Kempty road. Kempty River flowing through it and the small waterfalls created by the river make Lake mist the jewel of Queen of hills, Mussoorie. Boating is also available at Lake Mist.
St. George College
Mussoorie (founded in 1853) is amongst the oldest and most reputed schools in the country. It has been run by the Patrician Brothers since 1893. Spread over 400 acres (1.6 km2), the school is also popularly referred to as Manor House. Over the years, its alumni have made distinguished contributions in several fields, especially in serving the armed forces of the nation. The school imposing facade stands out as one of the main architectural attractions of Mussoorie.
Cloud End
Situated 8kms from library, Cloud End is at the extreme west of Mussoorie hill. The bungalow of Cloud End was built in 1838 by a British major. Cloud End was one of the first four buildings of Mussoorie and now it has been converted into a hotel called Clouds End. The place provides peaceful and calm environment because of its verdant surroundings. The resort offers a panoramic view of snow capped of colossal Himalayan range, and sacred Yamuna River. The spot is ideal for foreigners and honeymooners.
Lal Tibba
Lal Tibba is located in Landour area which is the oldest inhabited place in Mussoorie. Lal Tibba exemplifies highest point in mussoorie. There's a 20m tall tower situated at the edge of the cliff. The tower has an old telescope. You can take a close look at tempting Himalayan range from it and it will cost you around 20 rupees.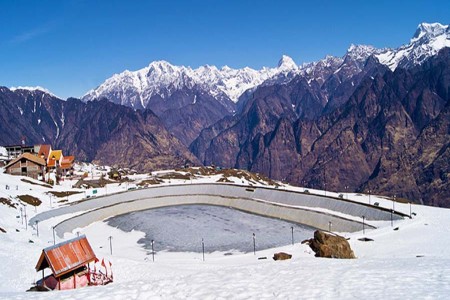 Dhanaulti
Dhanaulti is situated 25kms from Mussoorie amidst thick alpine forests of deodar, rhododendron and oak and it offers an atmosphere of perfect peace & tranquility. Dhanaulti often brings surprise for the tourists as the beauty of Dhanaulti is yet to be explored and is less popular amongst people. The woods, cool environment, scenic valleys, lovely weather and enchanting view of snow capped peaks of majestic Himalayan range makes it an ideal retreat for a relaxed holiday. Dhanaulti is situated on the Mussoorie -Chamba route.
Company Garden
Company Garden a best picnic location in Mussoorie, Company Garden is a well maintained municipal garden located at 3 km from The Mall. A mini lake, small flower garden and an amusement park is there in Company Garden.
Lake View
Picnickers can have a lot of fun at the Mussoorie Lake. A new entrant on the list of tourist attractions in Mussoorie, the lake is situated along the Dehradun-Mussoorie road. The development of the Mussoorie Lake has been done by the Mussoorie Dehradun Development Authority. Peddle boats are available on hire at the lake and is the most wonderful options of enjoying the scenic views of the area.
Bhadraj Temple
Devoted to Balaram, the elder brother of lord Krishna of Hindu holy epic Mahabharata, Bhadraj derives its name from BalBhadra- another name of Balaram. Situated on west of Mussoorie, view of Himalayan treks on the one side and Indian plains on the other side keep you spellbound with their magnificent beauty. Assan Barrage Bird Sanctuary, Chakrata ranges, Dakpathar, Doon Valley, High Himalayan Peaks, JaunsarBawar and Shivalik ranges are the prominent sites from Bhadraj Temple.
Surkhanda Devi
Surkhanda Devi temple is one of the 51 shaktipeethas of India and Nepal. When lord Shiva was unconsciously roaming around the Indian and Nepali hills with his wife Sati's dead body on his shoulder, Sati's head fell at the place and later, Surkhanda Devi temple was established there. Surkhanda Devi Temple is among three devi temples- Surkhanda, Chandrabadani and Kunjapuri.
Camel Back Road
This road begins from the Rink at Kulri Bazar and terminates at Library Bazar stretching 4km. The place offers a picturesque view of the sunset and a life like resemblance of a sitting camel. One can also enjoy long walks and horse riding here. British graveyard having ancient graves on the way provides new dimension to the walk. Evening at Camel road is a memorable experience as it offers a ravishing sunset view in the Himalayas as sun paints the mountains in brilliant hues.
Gun Hill
It has the eminence of being the second highest peak in Mussoorie. There are two options to reach this peak – either a 30-minute uphill walk or by the ropeway. Travellers come here to enjoy bird eye view of places like Banderpunch, Gangotri, Pithware and Srikanta. Gun Hill is comparatively quieter than its surrounding areas.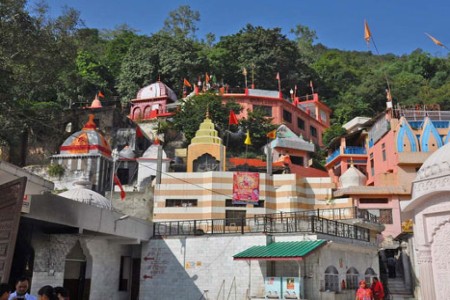 Jwalaji Temple
2,240 meters above sea level, Jwalaji temple, dedicated to Goddess Durga is 9Km west of Mussoorie on the top of BenogTibba/Hill. Jwalaji temple offers you a fascinating view of Aglar River Valley.